The Mission Memo: January 13, 2020
Board Governance, Community Impact, Nonprofit Leadership, Nonprofit Operations, Program Management, Revenue Development
January 13, 2020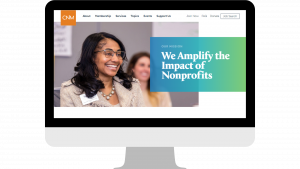 We're kicking off 2020 with a brand new website to better serve our nonprofit members and community partners. We hope you'll enjoy the new face of cnm.org, including:
Expanded resources and events sorted by topic areas

An improved nonprofit job board with increased search and filter capabilities

A streamlined user experience to accommodate new and returning visitors
Certificates at CNM
Is increased professional development one of your goals this year? Explore CNM certificates in five key areas for nonprofit success, and grow your skills and your professional network. Register today for one of the certificates below. 2020 cohorts begin soon!
Community News
Join the United Way of Greater Nashville and their partners for an upcoming informational session about the 2020 Census. Learn more about grants for organizations actively engaged in census-related outreach and the impact of the census on Tennessee residents. The session will be held on 
Tuesday, January 21 from 1:30-3:30 p.m. 
at the United Way of Greater Nashville building. Learn more and register 
here
.
Upcoming Events
1/24:
CERTIFICATE: Volunteer Program Management (Part 1)
SERIES HIGHLIGHT: Are you feeling overwhelmed or lost with the day-to-day operation of your volunteer program? Have you recently been tasked with building a successful volunteer base for your agency? Running a successful volunteer program requires implementing smart management systems and procedures…. Read more.

1/28:
Implicit Bias Algorithm
SESSION HIGHLIGHT: Implicit bias is naturally encoded in our brains. Join the Culture Shift team to learn how to identify and mitigate your unconscious biases before they tarnish your brand and your most valued stakeholder relationships…. Read more.

1/29:
CERTIFICATE: Revenue Development (Part 1)
SERIES HIGHLIGHT: Asking for money can be hard, but maintaining resources for your organization is essential to ensure your survival. Join the CNM Revenue Development Certificate to learn the skills you need to meet the demands of securing revenue for a nonprofit…. Read more.
Want to receive The Mission Memo in your inbox? Sign up here.