The Mission Memo: March 6, 2020
Board Governance, Community Impact, Nonprofit Leadership, Nonprofit Operations, Program Management, Revenue Development
March 6, 2020
Disaster Relief Resources For Nonprofits
If your organization was affected by the Nashville tornadoes, CNM is here to support you. Here are a few tips to help you navigate the recovery process and recruit volunteers to assist with your needs.
If your organization has a need for volunteers, either an ongoing need or at a specific time and date, register your project with Hands On Nashville. Please include #nashvilletornado in the title of your project so it can be searched easily.
Keep a record of all volunteers during your recovery efforts. You can download a sample volunteer waiver and sign-in sheet here. Every volunteer counts in disaster recovery. In the event that this disaster is federally declared, our city will need to report out on the tremendous volunteer response we have received in order to access federal recovery dollars.
Does your nonprofit need resources other than volunteers? Explore available resources on Hands On Nashville's blog.
---
Understanding & Analyzing Systemic Racism
April 21-23 (3-day event)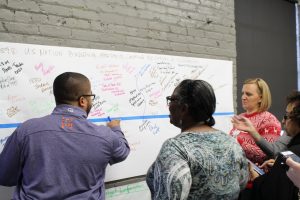 What is systemic racism and how does your organization uphold it through policies, practices, and structures?This advanced-level workshop is designed for leadership, board, and staff team members who are committed to anti-racism work in nonprofits in Middle Tennessee.
Teams of four will participate in this immersive three-day workshop, facilitated by Crossroads Antiracism Organizing & Training. Join us to explore racism as entrenched, systemic, institutional misuse of power that goes beyond personal prejudice.
---
Salute to Excellence Applications
Salute to Excellence applications are now open! If your nonprofit has been doing work worthy of celebration, apply today for cash prizes and community-wide recognition. We'd love to shine a light on your work at Salute to Excellence on October 29, 2020.
---
Upcoming Events
3/12:
2020 Innovation Catalyst Information Session 
SESSION HIGHLIGHT: If you've been losing sleep wondering how to make your revenue more sustainable, CNM's Innovation Catalyst might be your answer. Catalyst participants will create plans for ventures that add an alternate revenue stream. If your organization is interested in applying for the Innovation Catalyst (or who already have a new venture in mind), we invite you to bring multiple staff members to our upcoming info session to learn about the application process…

3/13: Census 2020 Events
SERIES HIGHLIGHT: CNM is committed to equipping Middle Tennessee nonprofits with the resources they need to ensure a complete count for the 2020 Census. Explore our upcoming events and helpful information to make sure the groups you serve are represented…

3/13:
Implicit Bias Algorithm
SESSION HIGHLIGHT: This course illustrates the neurological processes behind trust-building, especially among those of varying backgrounds. Bias is further examined as it relates to cognition and our interaction with external clients and stakeholders. With an in-depth study of majority privilege, this course equips organizations with the tools to understand and manage bias in internal practices and external relationships… Read more.
Want to receive The Mission Memo in your inbox? Sign up here.