The Mission Memo: April 1, 2020
Board Governance, Community Impact, Nonprofit Leadership, Nonprofit Operations, Program Management, Revenue Development
April 2, 2020
An Update on the CARES Act
CNM is providing resources and ongoing updates about the federal stimulus package (the CARES Act) on our Crisis Response page. As details unfold about eligibility requirements, timelines, and applications, please visit our website for the latest updates.
As we wait for federal guidelines to be released regarding loan applications, we've compiled some ways you can start preparing now to submit your loan application.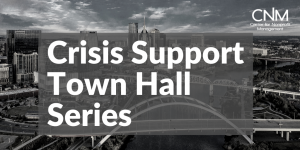 Meet the Funders | April 3, 8:30 a.m. – 10:00 a.m. Register
Budgeting & Financial Management, Weathering the Storm | April 8, 3:00 p.m. – 4:00 p.m. Register
Mindfulness in Times of Crisis | April 10, 3:00 p.m. – 4:00 p.m. Register
Leading in Times of Crisis | April 15, 3:00 p.m. – 4:00 p.m. Register
---
CNM's President & CEO, Tari Hughes, shared an update on the nonprofit sector in a recent op-ed in the Tennessean.
---
Salute to Excellence Application Process On Hold
We are placing the Salute to Excellence application process on hold in light of the challenges arising for nonprofits in the COVID-19 crisis. We will share information about Salute to Excellence as soon as it becomes available. Please stay tuned for more updates on our social channels and on 
this page
.
---
Crisis Relief Advocacy for Nonprofits
CNM has joined with our statewide partners to compose 
this joint letter
 to Governor Bill Lee and state legislators to advocate for crisis relief support for nonprofits. We invite you to join us by sharing this letter with your elected officials.
---
Upcoming Events
4/17:
 Advanced Grant Writing (Online Webinar)
SESSION HIGHLIGHT: So you know the basics of grant writing… now what? Come get advanced, in-depth help from an expert. Attendees will complete a writing exercise for a grant opportunity as the foundation for seeking grant funding. Learn how grant reviewers analyze and review grant proposals… Read more.

4/17: How to Start a Nonprofit (Online Webinar)
SESSION HIGHLIGHT: Have a passion for serving the community but need to know more about the structure or legal documents to turn your passion into a successful organization? In this session, learn from experts and peers about the key components of a nonprofit, and the required documentation to make it official… Read more.
Want to receive The Mission Memo in your inbox? Sign up here.