4.0 Movement Studios
Enrollment Specialist
4.0 Movement Studios
Job Summary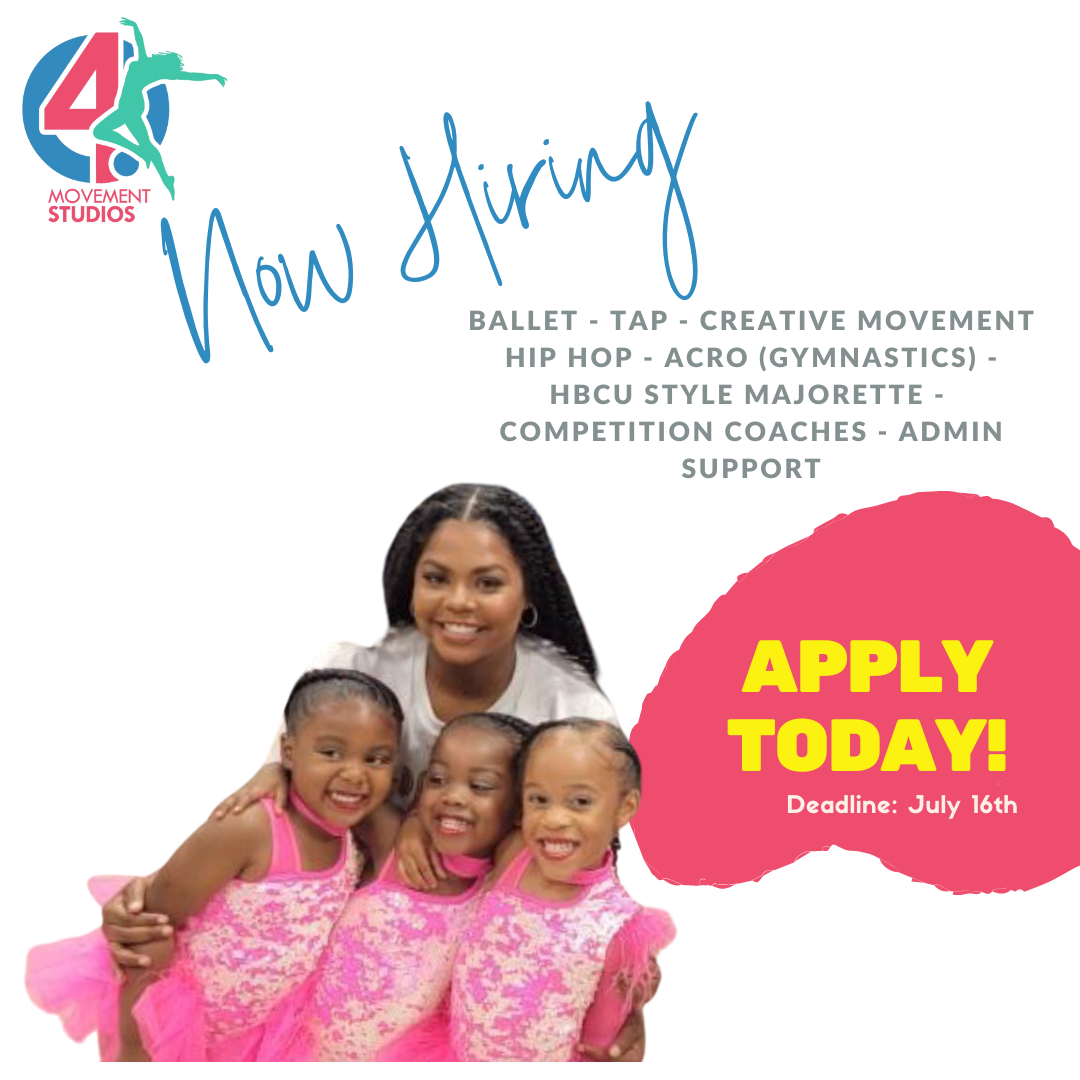 4.0 Movement Studios is seeking a MOTIVATED, UPBEAT, HARDWORKING, CLEAR SPEAKING, AWESOME individual to be an enrollment specialist for our dance studio. This person needs to strive for excellence at all times because they will be the first to speak with potential customers. The enrollment specialist will  communicate with current families to help them feel appreciated and valued.
The enrollment specialist assumes the task of getting people enrolled in our studio and keeping them enrolled–the main focu is on recruiting, integration, customer satisfaction, retention, and recovery so that each customer has an excellent experience in their journey with us. This is done by following our systems in place to make sure everyone who comes into contact with our dance studio feels appreciated & understands our mission & vision.
Job Responsibilities
Job Resposibilites Include:
1 Enrollment Tracking by Month
2 Enrollment Dashboard – Attendance Tracking & Teacher Reminders
3 Trial Class Confirmation/Reminder Management
4 Drop Tracking Management (alert admin of every drop)
5 Birthday Cards Mailed
6 2 Week – 1 Mo. Follow Up Reports / Communication
7 Open/Close Schedule Management
8 Mail Chimp Contact Management – Monthly Email to Inactives
9 Retention Management
10 Database Maintenance – Deleting Old Accounts – Keeping Active Accounts Current
11 Assist Team as needed with various projects and programs
12  Assist with adding classes as needed
Qualifications
Weekday availability to work Monday & Wednesday-Friday  mornings and occasionally in the evenings to greet new classes. Please note that the hours will drop over the summer as our business slows a LOT June-mid-August.
Experience with Microsoft Word, Google Drive/Docs/Forms/etc, Microsoft Excel, Facebook, Instagram, YouTube, and TikTok (and willing to learn whatever new social media trend that will most certainly pop up in the future). Experience with MailChimp is a plus.
Enjoy kids of ALL ages
Have great attention to detail
Excellent spelling and grammar skills
Ability to learn to use ad-creating websites, design and launch Facebook ads, use our online studio system for enrollment tracking, learn new systems quickly, and MORE.
Excellent tone of voice on the phone along with being clear spoken
Excellent communication skills
Naturally a cheerful, upbeat person who is approachable and friendly
Great listener and able to understand what the customer really wants/needs
We are seeking someone to fill a LONG TERM position–we want you in our family and to have you grow with us!
This position has the ability to grow into more hours if you are successful and as we grow.
Additional Information
Benefits
Flexible Work Schedule
Professional Development
Paid Travel
Work From Home Available (Upon Successful Completion of Training)
How to Apply
If you think you are a great fit, call 615.900.0805. Leave a voicemail if you don't receive an answer.  Afterwards, we will invite candidates who seem to be a great fit to submit their resume to ashley@4pt0mvtstudios.org. Do not submit your resume prior to speaking with one of our A-Team members OR leaving a voicemail.
Details
Date Posted: July 1, 2022
Type: Part-Time
Job Function: Communications / Marketing / PR
Service Area: Children / Youth
Start Date: 08/01/2022
Salary Range: 15/hr- 20/hr
Working Hours: 20-30hrs/wk