ROCKETOWN OF MIDDLE TN
Administrative Assistant
ROCKETOWN OF MIDDLE TN
Job Summary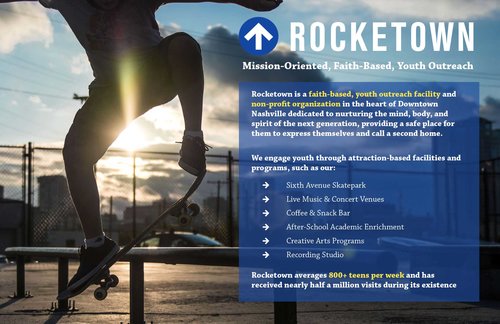 Consistent with the mission of Rocketown, the Administrative Assistant will provide administrative support to the Sr. Director of Development.  Duties include processing gifts, implementing the Donor Appreciation Plan, oversee grant calendar and reports, assisting with donor appeals, managing fundraising events, and recruiting and supervising volunteer and interns.
---
Job Responsibilities
Administrative:
Process all gifts and volunteer hours into Little Green Light, and maintain the database to ensure accuracy.

Coordinate invoices and manage collections.

Works with Finance to reconcile donations each month.

Manage and execute the donor acknowledgement plan.

Manages grant calander, tracking grant proposals, awards and reports. Assist with submitting required reports. Research new grant opportunities.

Coordinates Big Payback, Giving Tuesday and direct mail appeals.

Recruits and supervises volunteer interns to assist in the Development department.

Communicate both written and orally as needed.
Events:
Coordinates Development Department events.

Communicate with sponsors on their sponsorship (i.e. payments, logos, etc.)

Coordinate sponsor benefits (promises made to sponsors).

Organize and coordinate event committees.

Oversee and manage soliciting, securing, bundling and shipping silent auction items, and cataloging items into software.

Manage donor/guest/board emails and any other communication relating to fundraising events.

Manage RSVP's and create guest/table/team/driver lists.

Be the point person during event registration and auction check-out.
Other duties as assigned
Qualifications
Support the mission and values of Rocketown

Love for youth ministry and outreach

Great relational skills

Ability to serve with integrity, humility & trust
Qualifications:
High energy, positive attitude, flexible, committed to the team and teamwork, attention to detail, self-motivation, and a high degree of initiative.

Strong verbal communication skills and demonstrated ability to write clearly and persuasively.

Strong partnership-building and event planning skills.

Computer literate.

Ability to make decisions in a changing environment.
Physical Requirements:
Ability to lift 10 to 25lbs

Work schedule may vary based on organizational needs

Schedule may include but not limited to some late nights and weekends based on Organizational needs.
Additional Information
Benefits
Health Benefits

Retirement Benefits
How to Apply
Please submit (by email) a cover letter, resume and 3 references by May 10. 
Email Subject Line: Please type "Admin Asst" along with your first and last name.
Details
Date Posted: April 5, 2022
Type: Full-Time
Job Function: Administrative
Service Area: Arts / Culture
Start Date: 05/16/2022
Salary Range: $18 to $20 per hour
Working Hours: 8:30am - 5:00pm