Consulting through an Equity Lens with Phyllis Hildreth
April 12, 2019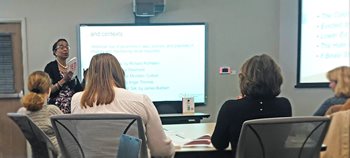 How can consultants apply an equity lens through their projects? CNM recently welcomed Phyllis Hildreth, Vice President for Strategy and Institutional Advancement at American Baptist College, to facilitate this conversation with our consultants. Phyllis is a conflict management specialist who is highly involved in the Nashville community through organizations such as the Metro Human Relations Commission, having served two terms, and the Community Oversight Board as appointed by the mayor. Phyllis also champions American Baptist College's Social Justice, Equity, Advocacy, and Leadership (SEAL) initiative working to provide training and education on civic engagement.
During her session, Phyllis emphasized the idea of "consultant as curator," outlining that consultants should know the resources and texts available on the issue of equity and be able to decipher the ones that each specific client can best use. One of the main takeaways from the session was a broad definition and expansion of the word "text." "Text" can be an article, novel, movie, TedTalk, or an individual's story. Phyllis hit this home at the end of her presentation saying, "we are the text." Individuals who have firsthand experience of the systemic inequities and discrimination in this city have stories to tell.
Consultants should be equipped to select pertinent texts and tools for their clients considering context, history, and the reality of current times. The purpose of the expansion of the word "text" is to help broaden the narratives we are exposed to. Phyllis suggested the following resources to begin to educate those working in the realm of equity:
Texts to dive into with guides to address work on race and equity
Texts for context (historic, academic, current and cultural)

The Color of Law by Richard Rothstein
Evicted by Matthew Desmond
Lower Ed by Tressie McMillan Cottom
The Hate U Give by Angie Thomas
If Beale Street Could Talk by James Baldwin

Local data to inform equity work

Nashville Next
REAL Dialogue – detailed overview of Nashville's Dialogue on Race, Equity, and Leadership from the 2016 event

Emerging example model of equity work
Consider the times – educate yourself on current events relevant to equity conversations

Ex. "Green Book" movie and history
After discussing the above resources available for individuals to educate themselves on addressing equity work, Phyllis continued to express the importance of oral texts, asking if people are bringing constituents into these conversations. With this question Phyllis urged everyone to consider what these conversation may cost an individual to have. Be independent and respectful learners. Keep in mind that asking traumatic questions costs some people more and compensate individuals for the knowledge of their experiences.
Phyllis provided this consultant training through American Baptist College under their SEAL initiative. The SEAL initiative is establishing American Baptist College as a center of excellence for education and training for civic engagement in the areas of social justice, equity, advocacy, and leadership.
Interested in how to apply an equity lens to your own work? Check out some of the below upcoming workshops:
April 25: Implementing Equity Frameworks: Creating Systemic Change
May 14: Equitable Evaluation
May 15: Systems Thinking for Social Change Makers
June 4: Community Engagement: Strategies for Implementation
Visit this page of CNM's website to read more about our Diversity, Equity and Inclusion Learning Series.