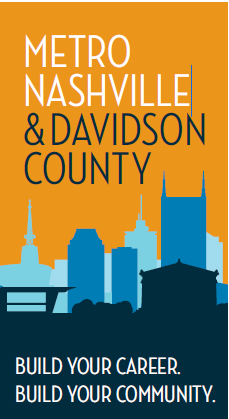 Metro Government of Nashville & Davidson County
Arts Commission Executive Director
Metro Government of Nashville & Davidson County
Job Summary
The Arts Commission Executive Director reports to the Mayor and the Arts Commission and is responsible for overseeing all operations of the Arts Commission, including administration duties involved in planning, organizing, and directing programs and services of the Arts Commission.  ***All applications are subject to public disclosure.***
____________________________________________________________________________
Metro Nashville Arts Commission is the lead cultural agency for the middle Tennessee community. The agency was founded by municipal charter in 1978 and is governed by a 15 – member board of commissioners. Metro Arts believes that arts drive a more vibrant and equitable community. The agency has a clear Theory of Change that seeks to Improve the Lives of Creative Workers, Deepen Cultural Access and Participation, and Support Creative Neighborhoods. We strive to ensure that all Nashvillians have access to a creative life through community investments, artist and organizational training, public art and creative place making, and direct programs that involve residents in all forms of arts and culture.
The agency has made a deep and public commitment to cultural equity and has a cultural equity statement that underpins its values and actions. Additionally, the agency has a multi-year relationship with Crossroads Anti-Racism to support the identification and change of policies and practices that drive inequity in the cultural ecosystem. Nashville consistently ranks as one of the top 5 large cities for cultural life and vibrancy in a variety of national indexes. The agency is seeking a dynamic, values-driven candidate to lead the next iteration of community collaborations, public funding growth, program development and national policy leadership.
Job Responsibilities
TYPICAL DUTIES:
Work with Board of Commissioners to develop committees, annual board work and key actions.

Develop and update a strategic plan that delivers on Metro Arts' mission.

Lead internal budget development of operational and capital programs.

Oversee excellent financial and administrative systems and protocols.

Initiate and manage strategic partnerships within Metro and with local, state and national organizations that support Metro Arts' mission.

Write proposals, grant applications that further the work of Metro Arts.

Coordinate executive leadership team and management processes.

Supervise and coach staff as a learner-leader.

Manage implementation of Metro Arts' key programs including–Metro Public Art, Grants, THRIVE, Poetry in Motion®, Racial Equity in Arts Leadership (REAL) and Restorative Justice & the Arts.

Work with Antiracism Transformation Team to identify policies and practices, provide education opportunities, and promote partnerships that interrupt and eliminate racism and support race-based equity and inclusion.

Lead integration of arts and culture policy and programming within work and scope of other departments and their strategic plans.

Identify and support public policies that support artists and cultural organizations.

Serve as a local and national expert on arts and culture as necessary for local talks, panels and speeches.

Advise Mayor, Council and other departments as necessary on best practices in arts and cultural programming and policy.

Coordinate with local, state and national advocacy partners such as Nashville Arts Coalition, Tennesseans for the Arts and Americans for the Arts on public policy and arts funding.
Qualifications
MINIMUM QUALIFICATIONS:
Bachelor's Degree in Business Administration, Liberal Arts, or a related field from an accredited college or university, and five (5) years of increasingly responsible experience in arts administration. ***No Substitution***
Candidates with accreditations earned in a foreign institute are encouraged to apply.
Note: Per Metro Ordinance No. SO94-1078. All employees of the Metropolitan Government shall be residents of the State of Tennessee or become residents of the state within six (6) months of employment as a prerequisite to employment with the Metropolitan Government.
PREFERRED EXPERIENCE, KNOWLEDGE, SKILLS, AND ABILITIES:
Commitment to diversity, equity, & inclusion

Commitment to Community as Partner and Co-Creator

Bold and energizing thinker who inspires and activates others

Strength as a public communicator to articulate vision and mission
We are an equal opportunity employer that values diversity at all levels. All individuals, regardless of personal characteristics, are encouraged to apply.
Metro Nashville Government respects the religious beliefs and practices of all employees and will make, on request, an accommodation for such observances when a reasonable accommodation is available that does not create an undue hardship on business operations.
Requests for ADA accommodation for the recruitment process should be directed to Human Resources at 615-862-6640.
Additional Information
Benefits
Benefits are listed on the website.  Click on the link to apply and select the tab titled "Benefits."
How to Apply
APPLICATIONS MAY BE FILED ONLINE AT:
http://www.nashville.gov/Human-Resources/Employment-Opportunities.aspx

Human Resources Department
404 James Robertson Parkway, Suite 1000
Nashville, TN 37219
(615) 862-6640

Position #NCS03576
ARTS COMMISSION EXECUTIVE DIRECTOR
JM

Requests for ADA accommodation for the recruitment process should be directed to 615-862-6640.
Details
Date Posted: April 26, 2022
Type: Full-Time
Job Function: Executive Leadership
Service Area: Arts / Culture
Salary Range: Depends on Qualifications
Working Hours: typically 40 hrs/wk; M-F, 8:00am - 4:30pm