Legislative Update April 2, 2021
The information below provides current updates on legislation in the Tennessee General Assembly that may impact local nonprofits. For more information on the bills below, visit the Tennessee General Assembly website. To find your legislator, visit this page and type in your address.
Education
SB230/HB16 Teacher's Discipline Act
Broadens authority of classroom teachers to enforce the student disciplinary policy or code of conduct and to request removal of a student from the classroom in certain situations. Only teachers who are trained in evidence-based behavior supports are authorized to manage the teacher's classroom, discipline students, refer a student to the principal, and hold students accountable for any disorderly conduct in school.
Status: Has passed both Senate and House.
SB677/HB598 Creates the Tennessee child care task force
Task force is to recommend a strategic action plan to address challenges of quality, affordability and accessibility.
Status: Seems to be in a reasonably good position to pass.
Health and Public Benefits
SB102/HB119 Creates Silver Alert program
Requires the TBI to implement a program to assist in locating missing and vulnerable citizens.
Status: Has passed Senate Judiciary and is working its way through other committees. Expected to pass.
SB751/HB142 Relates to DHS bill dealing with funding and not accumulating surplus reserves.
Deals with concepts and programs including community grants, opportunity pilot programs, increasing monthly grants and lifetime benefits. Governor's bill.
Status: Expected to pass.
Nonprofit (bills primarily impacting nonprofits and charitable organizations)
SB426/HB820 Funds collected by the department of state
Specifies how funds from charitable organizations will be used.
Status: Expected to pass.
SB664/HB720 Authorizes a nonprofit organization to conduct a bingo game as its annual event
Status: Might pass but not sure how this interacts with constitutional provision prohibiting bingo.
Racial and Social Justice
SB600/HB1227 Vacates and reconstitutes the Tennessee historical commission
Vacates current membership of TN Historical Commission. Motivated by Commission's vote to recommend removal of Nathan Bedford Forrest statue from the Capitol to the State Museum. Gov. Lee seems to support the Commission position.
Status: Passed Senate committee but won't pass House.
SB1101/HB1460 Age-appropriate instruction to public school students on Black history and culture
Requires for students in grades 5-8 on Black history and culture.
Status: Has a good shot at passing.
Spring 2021 CNM Resource Guide
The latest edition of the CNM Resource Guide is now live! Packed full of tips and tricks to help you run your organization, this guide includes the latest in revenue development, member discounts, digital resources, remote working tools, and more. It also features upcoming events and grant opportunities that you don't want to miss.
The Mission Memo: February 12, 2021
Meet the Funders Special Edition: 
The Next Normal – Giving Trends & Fundraising Adaptations for 2021
February 23, 2021 | 3:00 – 4:00 p.m.
Join CNM for our upcoming Meet the Funders Special Edition as we explore national trends, address event fundraising, and share tips for leveraging the charitable giving parts of the CARES Act. This conversation will feature Laura MacDonald, Vice-Chair of the Giving USA Foundation Board and 27-year expert in nonprofit leadership, fundraising, and philanthropy.
Laura comes as close to having a crystal ball as anyone when it comes to staying on top of the philanthropic landscape. Don't miss this powerful conversation and panel discussion about strategies to sustain our organizations as we navigate the post-pandemic world.
Infinity Hospitality Waiving Venue Rental Fees for Events
Infinity Hospitality is offering to waive venue rental fees for The Bridge Building or The Bell Tower for 2021 events. The full-service event company is looking to assist you in throwing a great celebration: fundraising dinners, holiday parties, and more! Events must be booked by February 28th to receive the promotion. For full details about working with their team, email Bubba Plunk or call (615) 351-0574.
Early Bird Rate Extended for Upcoming Leadership Retreat
The Deane Foundation is partnering with CNM and Mike Wagner of the NorthStar Leadership Project to present a two-day, 1-night all-inclusive retreat for nonprofit leaders called Reaching Distant Horizons. This made-for-nonprofits leadership experience is an effort to help nonprofit leaders bridge the gap between the unique challenges of today and the long term needs of tomorrow. Register before February 19 to lock in the early bird rate. 
Learn more.
CERC Announces a New Round of Mini-Grants
The Meharry-Vanderbilt Community Engaged Research Core
invites proposals for activities that promote health-oriented research partnerships between community organizations and academic researchers. The research partnerships should seek to improve community health outcomes, increase access to health and health-related services, enhance quality and effectiveness of health interventions, and/or inform future health policy. 
Learn more
.
2/19: Creating an Open and Affirming Culture of Care for LGBTQ+ Staff and Clients
$50 for CNM members; $100 for nonmembers
SESSION HIGHLIGHT: 
This workshop will provide organizational leaders a road map to transformative action steps to create an open and affirming environment for LGBTQ+ staff and clients. Through the use of evaluation tools, experiential exercises and breakout sessions, participants will create an action plan for change within their organizations which will create a socially and emotionally safer environment for all staff and clients.
.
.
Learn more.
2/25: Scenario Planning and Cash Management Techniques to Maintain Financial Strength
$50 for CNM members, $100 for nonmembers
SERIES HIGHLIGHT:
 As nonprofits reflect on their social impact and face pressure on their funding sources, they are increasingly thinking of new ways to deliver their services with less capital available. During this interactive session, learn about Profit & Loss (P&L) analysis & trending, scenario planning, cash flow forecasting and expense management.
.
.
Learn more.
3/1: Diversity, Equity, and Inclusion in Your Board Recruitment
$50 for CNM members, $100 for nonmembers
SERIES HIGHLIGHT: 
Boards guide the nonprofit's strategy to accomplish its mission. Organizations, funders, and the greater community are realizing that having a diverse board is a key factor in mission success. 
Join Kia Jarmon in learning the complexities of board recruitment and how to apply a diversity, equity, and inclusion lens.
..
Learn more.
Want to receive The Mission Memo in your inbox? Sign up here.
Share Your Nonprofit's Story with CNM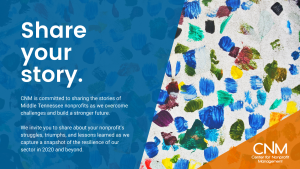 CNM is committed to sharing the stories of Middle Tennessee nonprofits as we overcome challenges and build a stronger future. We invite you to share about your nonprofit's struggles, triumphs, and lessons learned as we capture a snapshot of the resilience of our sector in 2020 and beyond. All stories can be shared through the survey link below through October 31, 2020. 
Thank you for setting aside time to help us capture a snapshot of the current state of the nonprofit sector. Collecting sector data, sharing nonprofits' struggles and triumphs, and celebrating the continued impact made by the sector is a priority goal for CNM in the upcoming year. Your feedback is extremely valuable and appreciated by our staff and board members!
September/October 2020 CNM Resource Guide
The first edition of the CNM Resource Guide is now live! Packed full of tips and tricks to help you run your organization, this guide includes the latest in revenue development, member discounts, digital resources, remote working tools, and more. It also features upcoming events and grant opportunities that you don't want to miss.
The Mission Memo: August 13, 2020
---
Applications for Tennessee Community CARES Program Close on August 15
The Tennessee Community CARES Program will provide $150 million in direct federally funded aid to nonprofit organizations located across Tennessee and serving Tennesseans. Applications are due this Saturday, August 15. Visit the Department of Human Services website for information about eligibility, applications, and more. 
Learn more
.
---
CNM Members Get 10% Off Virtual Self-Care Summit
CNM is a proud sponsor of the
Virtual Self-Care Summit hosted by
l
ocal nonprofit Day 7 on
September 14th-18th. Workshops will consist of tools and practices to care for yourself and also training sessions related to the management of teams and tools to continue your work in excellence. Access your discount with code "
CNMCARE" at checkout. Learn more.
---
8/18: Seeds of Equity – In Collaboration with Vanderbilt University Medical Center
$15 for CNM members; $30 for nonmembers
SESSION HIGHLIGHT:
This one-hour Seeds of Equity training provides an introduction to health equity. Through sharing of data and real life stories of how policies have shaped Nashville, it prompts audiences to consider steps they can take to address health equity on an individual, organizational, and systemic level.
…Learn more.

8/19:
 Crucial Conversations in the Workplace
$100 for CNM members; $200 for nonmembers
SESSION HIGHLIGHT: How do you approach conflict in the workplace? In this workshops, learn more about how to have crucial conversations in the workplace. Join expert conflict mediator Dawn Stone to learn how to bring up sensitive issues in a way that's psychologically safe for you and others to speak candidly.
..
Learn more
.
8/21: Systems Change for Social Change Makers
$100 for CNM members; $200 for nonmembers
SESSION HIGHLIGHT: 
Systems change has increased in popularity with nonprofits, funders, and practitioners who are ready to focus on the root causes of social problems. But what is systems change, and how can you use it? 
Join Systems Change expert and practioner Rod DeVore to learn more about what it is and what it looks like in the real world.
..
Learn more
.
9/2: CEO Conversations: Power Sharing in Your Organization
Free for CNM members; $20 for nonmembers
SESSION HIGHLIGHT: 
Join CNM Consultants Kia Jarmon & Noah Spiegel to learn more about power sharing within your organization. 
Explore questions such as how y
our modern organization fits into the historical context of how nonprofits are formed, h
ow you as a leader do your own internal work, while helping move toward external progress, and h
ow the leadership of your organization can distribute power more equitably.
..
Learn more
.
$150 Million in Coronavirus Relief Funds to be Awarded to Tennessee Nonprofits

CNM is pleased to announce that applications for the Tennessee Community CARES Program are now open. The program, which includes $150 million in Coronavirus relief funds for Tennessee nonprofits, allows applicants to apply for relief for "expenses occurring from March 1, 2020 through November 15, 2020 and related to the COVID-19 pandemic." Grant applicants can apply through the uniform application portal now through August 15. View the full program description, application, requirements, and frequently asked questions here.
Grants will be administered by partner nonprofit organizations who will serve as grant administrators. Grant administrators will handle outreach, marketing, and reporting of funds. They will also receive the grant applications, approve them, and monitor spending of approved programs.
Organizations serving as grant administrators in the Middle Tennessee area include United Way of Greater Nashville and Second Harvest Food Bank of Middle Tennessee. You can view a list of administrators here. Please note that CNM is not serving as a grant administrator.
Want more information about the grant application process? Attend an upcoming informational session about the program.
August 4, 2020 10:00 AM CDT  Informational Session | Register
August 6, 2020 2:00 PM CDT Informational Session | Register
All other questions should be directed to TN.CommunityCares@tn.gov.
July 27, 2020
If you're a Tennessee nonprofit providing coronavirus-related services and support for community members and vulnerable populations, you could be eligible to receive Coronavirus Relief Funds from the state of Tennessee beginning in August.
On Tuesday, Governor Bill Lee and the Financial Stimulus Accountability Group announced $150 million in Coronavirus Relief Funds will be made available to Tennessee nonprofits who serve populations within the state. These funds are intended to assist the ongoing work of nonprofits to address the health and economic impacts of COVID-19.
A press release on Tuesday from the Governor's office detailed all of the information currently available about the grant program. "For non-profits wishing to receive response and recovery grants to provide direct services, instructions for grant proposals will be issued by the Department of Human Services and its partner non-profit grant administrators on August 1, 2020. Grant applications will be processed on a first-come, first-serve basis with monthly reporting requirements and a de-obligation date of November 15." Read the full press release here.
For the latest updates, visit this page.
The Mission Memo: July 2, 2020

Has your professional development budget been cut during the pandemic? CNM is offering low-cost virtual learning opportunities to meet your needs right now. Beginning July 6, the Continued Support Learning Series features micro-learning modules focusing on the most-requested pain points in the nonprofit community. CNM members can participate for just $15 per session. Reserve your seat today!
Innovation Catalyst: Strategic Realignment
A reimagined version of the Innovation Catalyst to meet the challenges of 2020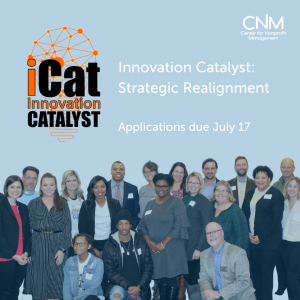 Could your organization use expert guidance to clarify your strategic priorities and improve your sustainability?
The Innovation Catalyst:Strategic Realignment (iCat:SR) is an intensive seven-month process that provides nonprofits with a unique opportunity to adapt their organizations to be more nimble and sustainable in the current climate. Applications are open now through July 17.
Participating teams will experience a constructive and strategic process that includes:
a portfolio review

a strategic framework 

business planning to analyze an organization's underlying business model for necessary pivots 

a refined pitch of your organizational plan for stakeholders
Questions about the Innovation Catalyst: Strategic Realignment? We have office hours available for you 

to ask questions about the program and application process. Email consulting@cnm.org to reserve a time.
---
Free Touchless Thermometers Available to Nonprofits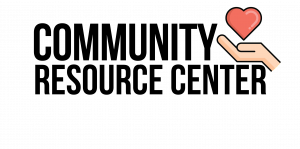 Could your nonprofit use touchless thermometers to supplement your reopening plan? Nashville's Community Resource Center has created an interest form for nonprofits in need of thermometers and other safety items. Submit a request for supplies via 
this link
 and the CRC will contact you to assess your organization's needs.
---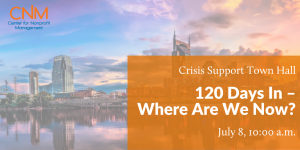 ---

7/6: Directing Disruption: Mastering Development in Our New Normal
$15 for CNM members; $35 for nonmembers
SESSION HIGHLIGHT: The kickoff session in our Continued Support Learning Series will feature an interactive learning experience with development expert Dr. Deb Macfarlan Enright. 
This class is designed to bring you optimal practices from development professionals and funding sources across the country in the nonprofit space as we face the post COVID reality together
…Learn more.

7/6:
 Virtual Events A-Z: From Advancements to Zoom
$15 for CNM members; $35 for nonmembers
SESSION HIGHLIGHT:
Do you want to create a virtual event but just can't think of how to do it? This workshop will explore creative options to in-person events. We will discuss different approaches and how best to promote your mission through a virtual event that is unique to your organization and engaging to your donors.
…Learn more.

7/13: Inclusive Leadership
$15 for CNM members; $35 for nonmembers
SESSION HIGHLIGHT:
Cross-cultural research highlights the key traits of inclusive leaders and their strategies for inclusion. This session will discuss key inclusive leadership traits to effectively lead diverse teams and organizations that work with diverse constituents. Inclusive leadership traits, strategies, and case studies will be presented.
…Learn more.

7/13: Equity in Action: A Leader's Guide to Identifying and Addressing Disparities
$15 for CNM members; $35 for nonmembers
SESSION HIGHLIGHT:
Reducing systemic inequity along socioeconomic, gender, racial, and sexual identities should be a higher priority within your organization's mission. How do you identify the gaps within your existing systems and policies? How do you change your stakeholder's mindsets? What are the model practices and tools needed to address disparities?
…Learn more.
Want to receive The Mission Memo in your inbox? Sign up here.
What does it mean to be an antiracist?
To our nonprofit partners and community supporters,
This week I attended a virtual networking event, and we were asked to use six words to introduce ourselves. I knew that beyond the usual, the expected, I had something else to say. When my turn came, I said: I'm a wife, mother, grandmother, nonprofit professional, exercise nut, and I am an antiracist. There, I said it – to a room full of strangers. And although the truth is probably closer to "I am an aspiring antiracist," I put it out there in the world in language stronger than I've ever used before.
Like so many of you, we at CNM are reeling from the murder of George Floyd as well as so many unnamed individuals of color throughout the history of this country. I am reminded that Mr. Floyd is only the latest victim of a society built on systemic racism and inequality. The system was built to benefit people who look like me while overlooking those who do not, and the dismantling of that system will require ongoing self-reflection, followed by bold action by those of us in positions of influence.
It is heartbreaking to reflect that way back in 1967 Dr. King said these words: "And as long as America postpones justice, we stand in the position of having these recurrences of violence and riots over and over again." And here we are in June 2020 trying to address the failures of a society built on systemic racism. We have so much listening, unlearning, and advocacy yet to do.
I know that I have a unique responsibility, as the CEO of an organization that seeks to represent Middle Tennessee nonprofits well, to use my voice. I am a white leader in a position of privilege. I believe that white silence is complicity, so let me be clear: black lives matter. They matter to me as an individual, in my own organization, and in our nonprofit community and beyond.
At CNM we are committed to creating an equitable, connected community. As we move forward in this vision, we have made an organizational commitment to first humbly examine ourselves. This work will require commitment from us as individuals and as a collective. My staff and I are committed to doing the hard work of making CNM an antiracist organization, both for the benefit of our nonprofit members, ourselves as individuals, and our community as a whole.
I believe that those of us in positions of privilege have a moral imperative to listen, amplify, and support people of color in our community. We can no longer wait. We can no longer postpone. We must pursue the work of antiracism now.
Tari Hughes
President and CEO
The Mission Memo: April 15, 2020
Salute to Excellence Update
It is with heavy hearts that we announce our decision to cancel our 2020 Salute to Excellence event. Our nonprofits need our support, immediately. With the mission of Salute in mind – to lift up and support the nonprofit sector – we're turning our focus toward being of greatest value right here, right now.
We are grateful to the support of our Salute Presenting Sponsor, PNC Bank, and the many generous award and event sponsors who are working with us to find valuable ways to serve our members through much needed crisis response programming. CNM will keep you posted on how we're working together to serve our hard working nonprofits in these uncertain times. 
This decision is the product of much deliberation with our board and staff. As a substantial draw on staff time, future event and celebration planning doesn't feel like the highest and best use of our time. 
We look forward to the day when we can celebrate with you again at an appropriate time. 
For now, we're here to help you in the ways that that you need us now.
Remote Working Mini-Grants
CNM has partnered with The Frist Foundation to launch Remote Working Mini-Grants, intended to help ease the financial burden of the crises we are facing in Middle TN. Mini-grants will range from $300 – $1500, limited to support the purchase of hardware, software, and the subscriptions to online platforms. 
They are available only to CNM members, with a budget size of $2 million or less (based on the most recently completed fiscal year), on a first come, first served basis.
---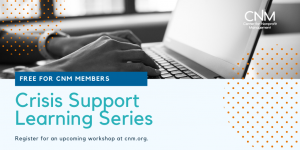 While our personal and business lives are in a state of uncertainty, figuring out a plan forward is both urgent and overwhelming at times.
CNM has designed a Crisis Support Learning Series in response to the needs identified from the nonprofit community itself. The various learning sessions are meant to play a pivotal role in helping organizations not only cope but succeed in these difficult times.
Beginning April 20, these hour-long virtual workshops provide a deeper dive into topics focusing on crisis management, including continuing critical services, fundraising during a crisis, keeping virtual teams motivated, crisis communications, and more. This series is offered at no cost to CNM members. We hope that you join us as we continue on a path to resilience.
Nonprofit Advocacy
Opportunity
A bipartisan bill, Save the Organizations that Serve (SOS) America Act (H.R. 6408), has been introduced in Congress to provide a lifeline to nonprofits impacted by COVID-19.
The bill improves the CARES Act by providing charitable nonprofits with $60B in emergency funding, removes the 500-employee cap for small business loans, and raises the above-the-line charitable deduction.
Follow this link to quickly ask your representative to co-sponsor this important legislation. 
---
CNM in the News
CNM's President & CEO, Tari Hughes, sat down for a conversation with the Tennessean's David Plazas about the current state of nonprofits. Catch up on their conversation on the Tennessee Voices videocast.
---

4/15:
 Town Hall: Leading in Times of Crisis featuring Michael Burcham
SERIES HIGHLIGHT: With our members' needs changing day to day, the CNM team is continuously evaluating how we can be of service. Per the needs assessment survey, we're learning that guidance, tips, and relatable stories is what our nonprofit partners are looking for most. Come join expert Michael Burcham on how to lead effectively in intense times of crisis… Read more.

4/20: Business Not As Usual: The Formula for Success
SESSION HIGHLIGHT: Now more than ever, nonprofits have the opportunity to think about business through a different lens, the lens of the intrapreneurial mindset. Join Trish Holliday in this engaging workshop and discover the skills necessary for being a successful intrapreneur and how the intrapreneurial mindset can help your organization face uncertainty and prepare for a new future. Register for 9:00 a.m. session or 1:00 p.m. session.

4/20: Keeping the Trains Running in a Time of Crisis and Uncertainty
SESSION HIGHLIGHT: This session will focus on business and programming continuity.  How you continue to meet the needs of your stakeholders and provide services when normal modes of operation are disrupted. We will review strategies and tools available as well as lessons learned from nonprofits in Los Angeles and Washington state hit by the pandemic over a month ago. Register for 10:00 a.m. session or 2:00 p.m. session.
Want to receive The Mission Memo in your inbox? Sign up here.